OZONE PREVENTION TIPS
Around the House and Yard:
Use an electric or manual lawn mower.
Keep lawn equipment well-maintained.
Mow or do other yard work in the evening or early morning.
Use water-based paints, stains and solvents. Use paint brushes and rollers instead of spray paint.
Tightly cap all solvents and store away from heat and sunlight.
In Your Car:
Avoid long periods of idling in your car and be sure to turn off your car after 10 seconds. 
Get gas in the evening or early morning; since ozone forms in sunlight, refueling at these times will help to reduce ozone levels.
Maintain your vehicle – a well-maintained car pollutes less than one that is poorly maintained.
Don't overfill your gas tank. "STOP AT THE CLICK" — it helps to reduce vapors.
Visit these websites for more tips and strategies:
Environmental Protection Agency
Regional Air Quality Council
Get updates on current ozone levels by clicking on the icon below: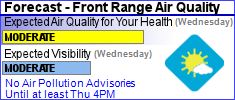 OZONE MATERIALS
The ozone white paper focuses on ground-level ambient ozone and provides
background information on the current ozone problem in the Colorado Springs region. The paper also describes current and future programs and technological improvements
that will affect future ozone concentrations, along with possible strategies that can be
considered in the future. This paper will also look at growth in population, vehicle miles
traveled, and travel behavior, and considers the possible effects these changes will have on ozone concentrations.
Our brochure describes simple things everyone can do to lower ground-level ozone levels.
Stop at the Click Campaign
PPACG has implemented a campaign to place
"Stop at the Click" stickers on fuel pumps and posters
inside gas stations in the Colorado Springs area.
To order FREE stickers and posters, complete this form
and mail it to PPACG, 15 S. 7th St.,
Colorado Springs, CO 80905.